How did we get here?
President Jimmy Carter stood by while the Shia radical clerics in Iran overthrew the Shah of Iran in 1979 and established the current Islamic Republic of Iran. 

President Reagan stood behind and armed Iraq's Sunni President Saddam Hussein as a couter balance to the Islamic Republic of Iran. 

President H.W. Bush reneged on his tacit approval with Iraq's President Saddam Hussein to allow Iraq to attack Kuwait in retaliation for Kuwaiti alleged oil theft and debt default.  Dessert Storm resulted which weakened Iraq and left it vulnerable to Iran.

President G.W. Bush took out Iraq's Sunni President Saddam Hussein and TOTALLY eliminated our counter-balance to the Shia Iran.

Iraq's population mirrors Irans in that both are predominently Shia.  The two largest Shia Populations in the Middle East.
For more details on the Bush Presidencies and the fall of Iraq, see "GW Bush and the Ascension of Iran & ISIS"; go to this link: https://wp.me/pY51c-Qx
So!  For decades Iran and Iraq fought local wars against one another following the overthrow of the Shah in Iran.  Thousands were killed on both sides and chemical weapons were used on both sides.  This was in fact a Sunni/Shia war as Shia Iran sought to defeat the Iraqi Sunni regime under Saddam Hussein and merge the Iraqi Shia population with its own.  The Shia are the majority in Iraq.
So!  While Reagan sought to maintain a stalemate between Iraq and Iran, the Bushes systematically destroyed this check and balance and wiped out a Sunni regime in Iraq that now sits as a ticking timebomb for Iran to venture in and establish a Shia Government friendly to Iran!  Iraq and its fragile Sunni/Shia coalition cannot endure without outside intervention, meaning the US, or it will fall to the Shia majority.
Thank you Presidents HW and GW Bush!
So!  President Trump wants desperately to get out of Iraq (and Afghanistan) but knows that the minute we leave that Iran will move in.  Also, Sunni Fundamentalist, like ISIS, would love to get us out so they can try to re-emerge.  Iran now has or is close to having weapons grade uranium and has missile technology to deliver a nuclear weapon of some sort when ready.  The Bushes took out the only counter-balance to the radicals in Iran by neutralizing Iraq and crippling this Iraqi enemy.
Trump's Dilema:
How to Stop Iran from creating a nuclear weapon?

How to get out of Iraq without ceding it to Iran?

How to do both without re-engaging in a long protracted war.
Trump's strategy all along has been to stand up allies in the region to stalemate Iran and its regional ambitions.  He does not want our Flag to be the symbol of US Agression in the Middle East!  To date, he does not have all of the pieces in place but is close with Israel, Saudi Arabia, Egypt, Jordan, and the UAE.  But, our own Republican Senate is blocking arms sales to Saudi Arabia that could be used to thwart Iran!
If Iran steps up its provocative actions in the region, Trump and his allies may have to react militarily.  Europe has a role as well as they need to stand with the US against Iran and Iran's reneging on the Iranian Nuclear Agreement THAT IRAN NEVER SIGNED!! 
Tighter sanctions may spark an internal overthrow of the Ayatollah led regime and THIS IS THE ONLY WAY TO STOP IRAN AND NOT HAVE TO USE MILITARY FORCE AGAINST IRAN.  Short of that, Iran knows that Israel will not stand idly by and allow them to spin up a nuclear weapon.
As an aside to this tragedy:
GW Bush's legacy will include that he got us into a war with Iraq when in fact we had so many other avenues to pursue prior to invading Iraq.  I cannot justify his actions other than they were motivated by his desire to avenge the attempt on his Father's life by Saddam Hussein when the former President was being given an award in Kuwait for saving Kuwait from Saddam Hussein.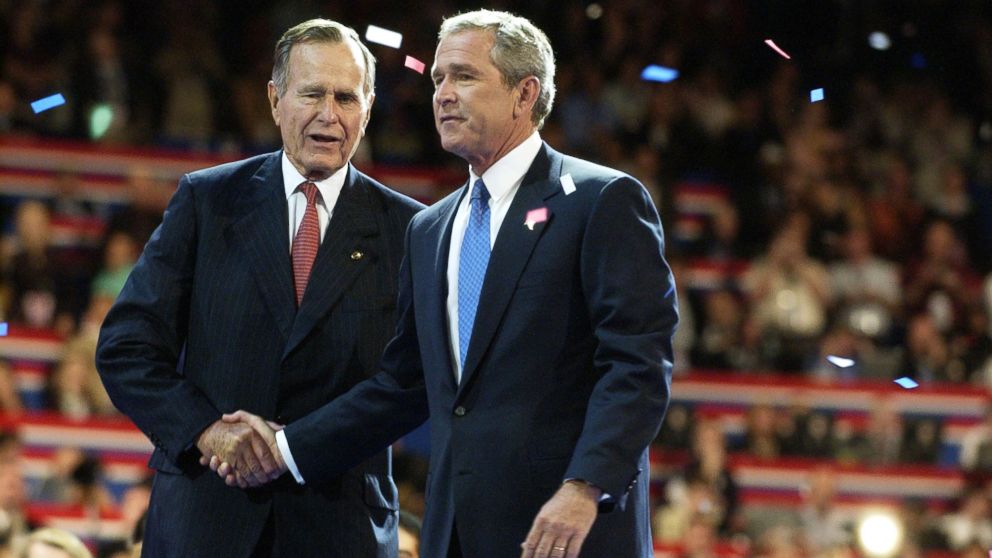 Bush and our intel community insisted that Iraq was attempting to develop nuclear weapons and had in fact used chemical weapons against Iran in past conflicts.  While the latter is true, both sides used chemical weapons against each other.  Besides, Pakistan, Libya, India, Israel, North Korea, China and others had not only pursued nuclear weapons but had actually developed them!  Bush blamed Saddam for killing thousands of his own people.  So had Iran!  How many Iraqis did we kill in our two wars against Iraq!  You guessed it, over 200,000!  
My real sadness comes from knowing that thousands of our vets were maimed and thousands killed in Iraq.  For What?  What was our end game?  What did we gain from not only the carnage to our troops but to Iraqi civilians?  When I see GW Bush riding with our wounded warriors, I literally get sick to my stomach.
I truly do not know if I could look them in the eye knowing I sent them into battle without a national security rationale;  succumbed to political pressure and created rules of engagement that made our troops sitting ducks; created a "surge" to win the war after years of merely trading bullets with the Iraqi army; then leaving office without a Status of Forces Agreement with what was left of the Iraqi Government.  He left this decision to President Obama!  How about those who followed his orders into battle only to lose their lives, limbs and faculties?  Didn't Bush owe them at least a SOFA that would give them some level of knowledge that their sacrifice was worth it?  I think so…
Pray for President Trump.  He has many difficult decisions ahead of him that will effect not only our lives but those of our children and grandchildren.
RD Pierini
@RDPierini