Dem 2020 Presidential Candidates-And These Are NOT the Nuttiest!
Welcome to the New Democrat Party.  I have been writing for years that my old Democrat Party has been hijacked by the radical, globalist, anarchist Left, hell bent on destroying the greatness of the US as we are the last bastion of hope for freedom throughout the world.  Our European ancestors have already succumbed to Leftist ideology of open borders, government control of their economies, and an ever increasing erosion of personal freedom and personal property autonomy.
The current slate of Democrat Presidential candidates espouse (compilation of current promises):
Reversing the 2017 Tax and Regulatory cuts and even increasing taxes way beyond Pre-2017 levels
Abortion on demand including post birth abortion
Expanding the Supreme Court and adding more liberal justices

Eliminate the Electoral College

and elect the President based on popular vote

The passing of the Green New Deal (GND)

(highlights below)

Bans affordable energy via fossil fuel production and use
Eliminates Nuclear Energy even though it as green as anything they propose
Eliminate 99% of all combustion engine automobiles and replace them with "electric" cars
Gut and Rebuild every building in the US and make them "green" compliant
Eliminate air travel and replace it with rail transportation
Government Guarantee of a Job for Everyone!
Free Education for life for all Americans, and any other nationality who wishes to walk into America
Government will provide healthy food to every "person" in the US
Government provided safe, affordable, adequate housing for everyone (like the homeless in California?)  K. Harris wants to give money for housing to persons of color and recreate the 2008 Great Recession
Guaranteed income for everyone including those who are unable or unwilling to work
Ban meat to get rid of the farting cows

Open Borders;

decriminalization of illegal border entry

Government run healthcare via "Medicare" for all
The weakening of our military
Wide expansion of gun-control
Federal legalization of Marijuana and other illicit drugs
Granting more control over the US by International organizations such as the UN and the WTO
Kill all of Trump's Trade deals and allow the outsourcing of our industries and jobs

Slavery Reparations

Pardoning 50% of all federal prisoners
Forgive all student loan debt
More money for teachers and public schools
Eliminate charter school subsidies.
Forced Busing to achieve desegregation of our schools
None of the candidates have any clue how to pay for these programs and most of the programs have only marginal public support.  So what?  If they win, keep the House and take back the Senate, the Left will erase the gains made by the US under Trump and FastTrack these leftist anti-American programs.  ELECTIONS DO MATTER AND THIS ONE MORE THAN MOST.
The Left "A" Squad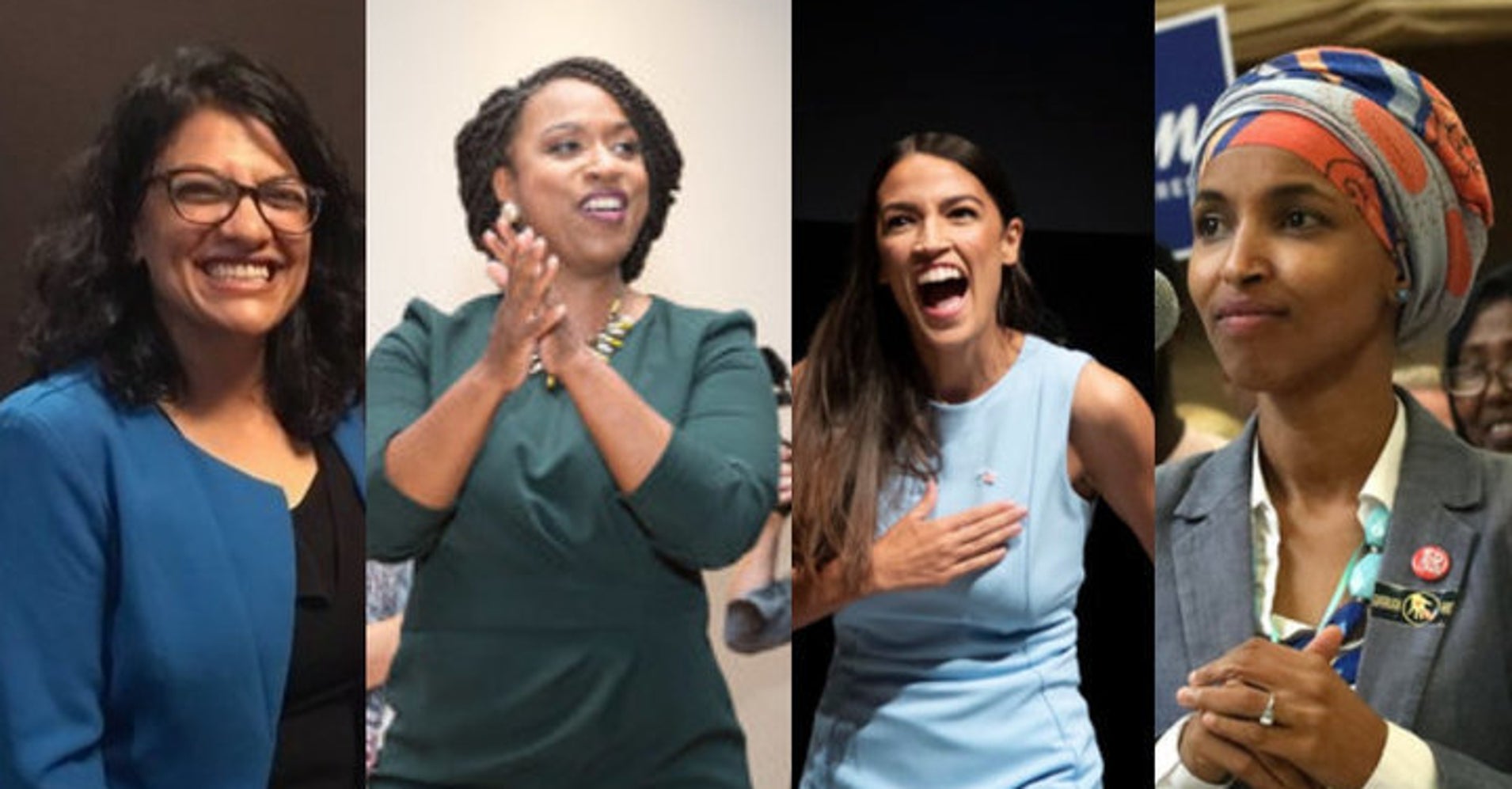 If the 2020 Democrat Presidential Candidates don't scare you to death, just consider how whacky the "Big Four Squad" of Democrats are and these women have already been elected to Congress in the 2018 Mid-Terms!  Alexandria Ocasio-Cortez, Ilhan Omar, Rashida Tlaib, and Ayanna Pressley make up the squad and their disdain for everything American doesn't exclude the Democrat Party.  This group actively promotes anti-Semitism, utter disdain for anyone white, promotes overt hatred for Israel, totally dismisses our history and our heritage as deeply flawed and worthless, and believes our Constitution is worthless.  In short, they represent the anarchist left-wing of the now Democrat Party.  Is this too harsh of a characterization of the Squad?  Consider the definition of an anarchist:  "a person who rebels against any authority, established order, or ruling power."  
This group is driving the far left-wing platform of the 2020 Democrat candidates to the point Joe Biden can't keep up!  This group is trying to overtake and pass the leftist takeover of Europe in terms of left-wing globalist policy and national identity destruction. The Squad exhibits no love for America, its values, history, or its
European Model:
I have written about the fact that Europe capitulated to this Leftist movement when they formed the European Union (EU) and wiped out national borders throughout Europe and concentrated power in the EU's Parliament, European Council, and other such bodies.  Local national autonomy has been replaced by a super-body of like-minded globalist bureaucrats in Brussels. 
The population of the EU is 500,000,000 people with a combined GDP of $18.75 Trillion, second only to the US and $6 Trillion higher than China.  I suggest that Europe is as big a danger to the US as China or Russia but in a different way.  Europe and the US used to be considered "the West".  Europe has basically abandoned their Western values and national boundaries and supplanted their sovereignty with semi-open borders and erased capitalism with socialism in terms of centralized control over sovereign nations and their economies.   Basically, with Germany as the strongest nation in the EU, Germany was able to consoldiate Europe without firing a shot!  I am sure Hitler is looking up from hell shaking his head!
Their risk to the US is their propensity to seek peace at all cost; an unwillingness to defend itself; and a willingness to abandon free speech and other freedoms for the "common good".  If Europe is attacked from within or without, the US has to defend them.  At that point in time it may or may not be in our national interest but we will not have a choice, as long as their is a Pro-America President in the White House.  If we have a Leftist President, he or she will preside over what will basically be a surrender to the invading forces.  After all, it is the "Wests" fault that they were empire building slave traders who have ruined our earthly utopia! 
World War III will be much different than the last world conflagration as nuclear weapons will be in the mix and our enemies ability to micro-target civilian populations will be a deciding factor.  With heavy populations of Islamist within each of the European nations, Europe will have to fight both an external and internal enemy!
Post 2020 Democrat Presidential Victory-The American Epilogue
You can take to the bank the fact that one of the left-leaning Democrat Presidential candidates will win the Democrat primary, and the winner will most likely be female.  This will ensure that the winner is an ultra-left-wing progressive that will probably make Bernie Sanders look normal.  Further, add in the possible expansion of the Squad with more radicals who hate America,  The result is not a pretty picture!
Impact of a Left Takeover of the Government: 
Increasing Corporate and personal tax rates for all Americans, yes the Middle-Class will get creamed as they are needed to fund the left-wing follies, and reinstituting business/job killing regulations will reverse all of our economic gains since 2017. 
Effectively killing the fossil fuel industry and reverting to green energy dominance will stifle any further economic growth. 
Medicare-for-all will destroy the healthcare sector and destroy the well-being of American citizens. 
Opening the borders will bankrupt States, Counties, Cities and School Districts as they will have to shoulder the bulk of the burden to support millions of new residents who are deficient in the English language and who have little or no education.  This, at a time, when robotics are being developed to eliminate low skilled jobs.  The mass influx of poorly educated residents will strangle STEM programs that are needed to maintain our international competitiveness as educational resources will have to focus on remedial education. 
The open borders will eliminate any possible control over the influx of illicit drugs and human trafficking.  Our Opioid crisis will explode again accompanied by other drugs of equal or greater lethality.  
The bankrupting of the cities will usher in an unprecedented level of homelessness that will make our ghettoes on par with the worst third world countries. 
The open borders will also reintroduce heretofore erradicated diseases and infect our populations with new strains of mutated illnesses. 

With government takeover of healthcare, our drug industry will have fewer resources to combat these new viral and bacterial enemies. 

Hospitals and clinics will close do to a lack of reimbursement from the government healthcare system as we witness under Obamacare.  But, under Obamacare, 170,000,000 Americans kept their employer provide healthcare.  Imagine if all of those Americans are suddenly dumped on to the government run system…
And that does not even touch the degradation of our military and our lack of reediness to combat foreign threats.  Am I exaggerating?  Not really.  Prior to Trump being elected, 70,000 manufacturing plants closed over the past 20 years.  Job participation rates fell as more and more US citizens left the workplace.  Our dependence on foreign oil tied our hands when dealing in the Middle East and kept us captive to our own need for energy.  
So, don't laugh too much at the nutty rhetoric and programs that are hitting the airwaves from the Candidates or currently elected Democrats like from the Squad.  These people are 100% backed by the majority of the Main Stream Media who will spin bankruptcy into economic security and the killing of born alive babies into healthcare.  Oh, I forgot, they already do!
Better think hard about your vote in 2020…  A wrong vote and the die will be cast that cannot be reversed…
RD Pierini
@RDPierini
Hat Tips:
https://en.wikipedia.org/wiki/Institutions_of_the_European_Union
https://en.wikipedia.org/wiki/List_of_countries_by_GDP_(nominal)
https://thefederalist.com/2019/02/07/ten-most-insane-requirements-green-new-deal