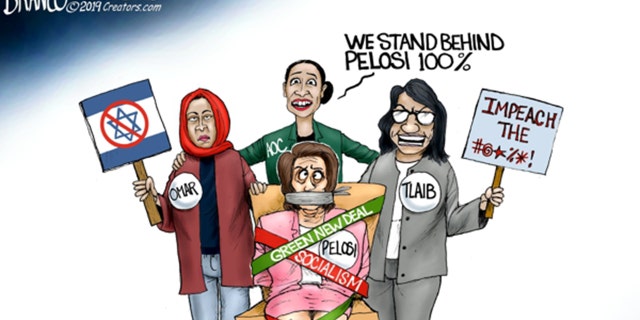 President "D" did it again!  He tweaked the Media and the Leftist Democrats into bringing the Squad back to the forefront of the Democrat Party and totally obliterated any coverage of the weak primary candidates.  He also took the wind out of Pelosi's gun control sails!  There is no doubt that the old line leadership of the Democrat Party is feckless in dealing with the President and their own radical members of Congress!
This latest misdirection involved the two radical, Pro-Palestinian, Anti-Semitic members, Rashida Tlaib and Ilhan Omar.  They shunned the Pelosi led delegation to the Middle East then tried to visit Israel on their own.  Their efforts were aided and abetted by Pro-Palestinian, Anti-Semitic, anti-Israel, BDS (Boycott, Divestment, and Sanctions against the State of Israel) radical groups who seek to eliminate Israel as a State and replace it with a Palestinian State.  Tlaib actually said she wanted to visit "Palestine" rather than recognize the existence of the State of Israel. 
Trump supported Israel denying them entrance into Israel as they were intent on using the trip to promote BDS and Palestine as the one State solution with the elimination of the Israeli State.  Israel rightly denied them entrance.  Tlaib later request a humanitarian visa to allow her to visit her Palestinian grandmother.  Israel granted her this accommodation then Tlaib rejected the offer blaming Israel for forcing her to not visit her grandmother as she would have to basically keep her mouth shut while in Israel.  
Of course, the left-wing media and the out-maneuvered Democrat leadership blamed Trump and Israel for denying this poor girl the right to visit her aged grandmother.  But, it was Tlaib's choice to opt out of the visit.  The President continued to rub salt in Tlaib's wounded ego by ending one tweet with the statement, "The only real winner here is Tlaib's grandmother,  She doesn't have to see her now!"
What happened to Pelosi and Schumer's gun control push?   What happened to the Democrat Primary and their media coverage?  What happened to the Media drumbeat promoting that the US was most certain to go into a recession?  TRUMP HAPPENED!  He used the squad again to completely make Pelosi and Schumer irreverent; made the media chase the new shiny object of Trump colluding with Israel to deny a member of Congress entrance into Israel; he used the news about the squad to completely overshadow Democrat leadership and raised serious questions regarding the actual strength of the Democrat leadership!
The funny thing is that the President doesn't even have to break a sweat to dominate the news cycle.  The left will ultimately shoot themselves in the foot and he is standing by to help them reload!
The only left-wing winner last week was Fredo Cuomo as this dust-up took the spotlight away from his idiotic rant!
RD Pierini
@RDPierini