Hate is Hate-If you don't condemn Racial Animus in ALL Forms, Then You Condon Racial Animus!
KKK White Supremacists Versus Nation of Islam
Recently, a photo of President Obama along side of Louis Farrakhan focused light on Black Democrats who meet with and dine with the divisive leader of the Nation of Islam, a Black Separatist Organization.
This photo was taken in 2005 at a Congressional Black Caucus meeting by photographer Askia Muhammad who was asked to bury the photo so as not to hurt Senator Obama and his future Presidential Candidacy!  Following this recent discovery, it has been discovered that at least 6 members of the Congressional Black Caucus, including the #2 in the Democrat National Committee, Keith Ellison, have been seen with and some dined with Farrakhan.  These same Black Caucus members have been asked to denounce Farrakhan and his anti-Semitic, homophobic, Black Separatists views and rantings.  So far, crickets!  Pictured below are the Gang of Six and of course, low IQ Maxine "Impeach 45" Waters is front and center.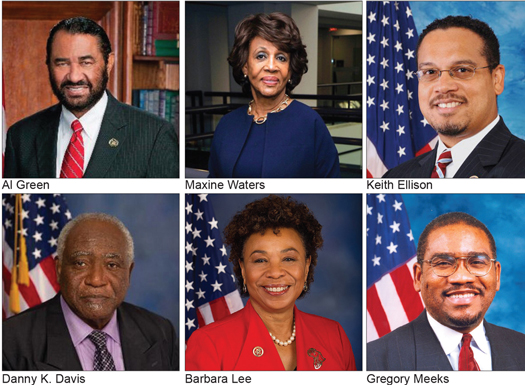 Farrakhan and his followers are just as despicable as David Duke, the KKK and White Supremacists! 
But, for some reason, the main stream media turns a blind eye when Farrakhan said of White people: "White people deserve to die, and they know, so they think it's us coming to do it," and described them as potential humans who haven't evolved yet." 
He described Jews as satanic:  "Some of you think that I'm just somebody who's got something out for the Jewish people. You're stupid. Do you think I would waste my time if I did not think it was important for you to know Satan? My job is to pull the cover off of Satan so that he will never deceive you and the people of the world again." 
Combining hatred for Jews and their "Control over you're God's chosen people? And you promote something that God rejects? You've lost your covenant status!  You are not the chosen of God, you are the chosen of Satan! …You're promoting homosexuality. God doesn't. You promote filth. God condemns it!" 
It seems the only "white man" Farrakhan praised was Adolf Hitler, presumably due to Hitler's hatred for the Jewish people:  "The Jews don't like Farrakhan, so they call me Hitler. Well, that's a good name. Hitler was a very great man."
The Congressional Black Caucus is theoretically aligned with the Democrat Party who claims to be the champion of all and the champion of Identity Politics!  Why they don't condemn Farrakhan for the Racial, Homophobic, Separatist as a bigot is beyond comprehension.
Charlottesville!
Remember Charlottesville when the Black Caucus, Democrat Party and the Mainstream Media condemned Trump for saying there were bad buys on both sides of the Riot?  Trump was saying that White Separatists, White Nationalists, KKK were bad but so are Antifa, Black Lives Matters, and Black Separatists!  All of these groups are racists at their core and condone violence to achieve their goals.
Remember when the media kept hounding Trump to condemn David Duke, the Democrat created KKK, and White Supremacists not matter how many times he did so?  David Duke is despicable but so is Louis Farrakhan!  Both have no place in mainstream America and our politicians have no logical reason to meet with either let alone have dinner with them!  They, and their philosophies should be summarily condemned without reservation.
I am still waiting for the Congressional Black Caucus and the Democrat Party to step up and condemn Farrakhan for his Black Nationalist, Separatist racism and homophobia.  Probably won't happen…
RD Pierini
@RDPierini