Proposition 13 in California was written, promoted, and paid for by industrial and commercial real estate developers in lieu of the California Governor, and the State's legislature, to develop a fair and sustainable property tax reform. I was there! I was a Mayor of one of California's cities who pleaded for years with the State Government to get off of their rear ends and tackle property tax reform before soemone with a vested interest in molding property tax governance to suit their special interest would do so . Senior citizens were being taxed out of their homes; businesses could not adequately assess the impact of property taxes on their current and future budgets.
Cities and Counties knew that the Prop 13 pushers, Jarvis and Gann, both involved in real estate, would propose a "solution" that did not address the true issues of the current property ad valorem tax; would not consider the impact of their self serving proposition on local Cities, School Boards and Counties; would transfer even more property tax control to the State government; would write the constitutional amendment to favor long-term proprety owners such as commercial and industrial property owners;

Would ignore residential homeowners who, on average, sold their home every 4+ years, thus eliminating their Prop 13 tax base!
Property Ad Valorem Taxes Are Unfair to Homeowners and Other Property Owners-Period
First of all, let me say that I totally oppose the concept of an ad valorem tax on property: What is an ad valorem property tax? It is a tax that is levied on the property owner based on the ASSESSED VALUE of the property, before the property owner has realized any personal gain due to the assessed value of the property. To simplify, income taxes are levied on income you have actually earned AND received. You have not earned NOR received any compensation from your property's value, period. I firmly believe that Ad Valorem Property taxes should be abolished and replaced by authorized taxing agencies with income or other post benefit source. Taxing citizens, especially low income and/or senior citizens on fixed incomes, based on the theoretical value of their home is the epitome of bad public policy…
One other issue with ad valorem taxes on Your Property! WHY SHOULD YOUR CITY, COUNTY OR SCHOOL BOARD GET AN INCREASE IN TAXES JUST BECAUSE YOUR ASSESSED VALUATION WENT UP? Are they providing more services? Nope. Do you receive any added benefit from their windfall? Nope! Did you get a check in the mail equaling your increase in assessed valuation? Nope! The result of this revenue windfall is that these local agencies adjust their spending upwards based on this increase rather than on WHAT YOU AS A TAXPAYER WANT YOUR LOCAL GOVERNMENT TO PROVIDE FOR YOU. When 2008 happens again, they will have bloated budgets that then have to be cut!
Back to Prop 13:
Prior to Prop 13, local governments had the ability to raise or lower property taxes within their jurisdictions. It is important to note that PRIOR to Prop 13, under local government control, the average California property tax rate was 2.67%. Local governments were able to assess property on their "market value". It is important to note that prior to Prop 13, local government adjusted their property tax rates up or down to keep the overall property tax revenue the same as the year before.
After Prop 13, the assessors had to assess property on its purchase price. That valuation under Prop 13 could increase by 2% a year thereafter. Most agencies adopted the maximum increase from 1978 until the Recession of 2008. Under Prop 13, the tax rate was "fixed" at 1% but loopholes allowed local governments to add on parcel taxes, impact fees and "Mello-Ross Assessments". Impact Fees were used most often to have developers pay for the infrastructure costs associated with their development. Impact fees do NOT require a 2/3rds vote by the taxpayers for approval. Mello-Ross assessments require a majority of the taxpayers OR a Majority of the property owners. Since the developers usually own the land subject to the assessment, they can vote the measure in then pass it on to the buyers later on! Since Prop 13, California impact fees are the highest in the nation for single family developments, and are three times higher than the US national average.
There is No Free Lunch!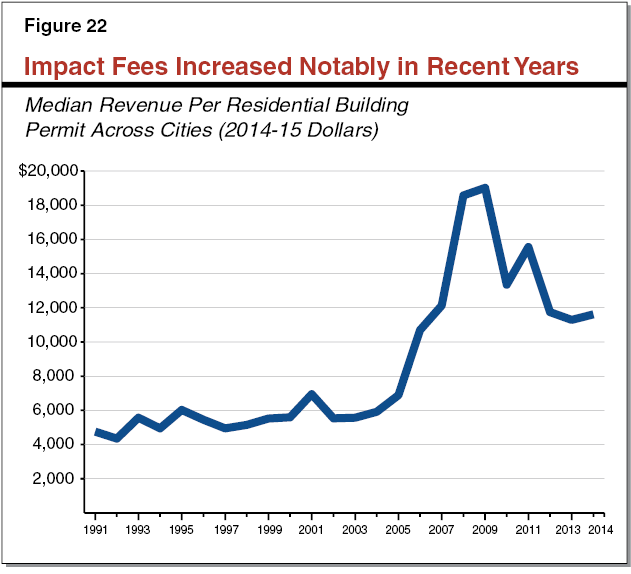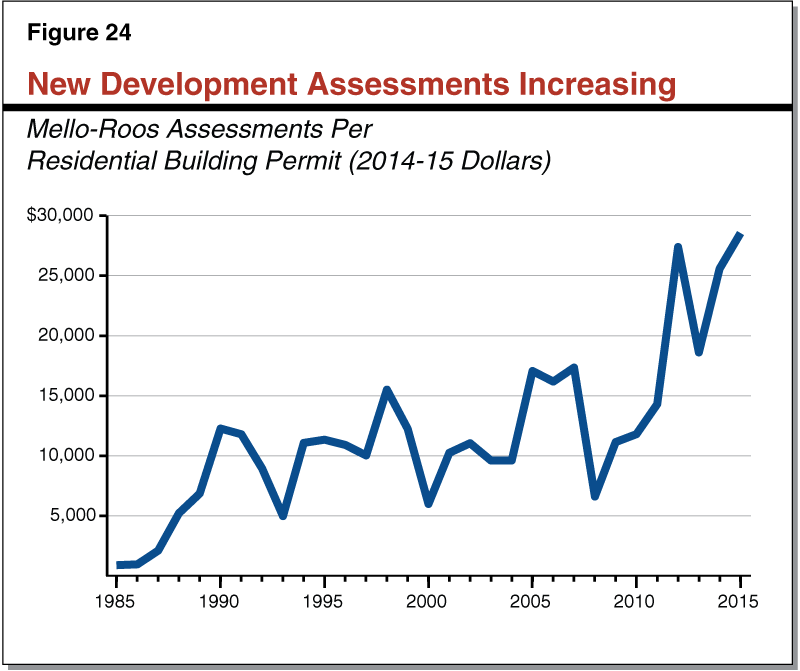 Keep in mind, that after Prop 13, property valuations were based on the Purchase Price, that now includes Impact Fees and Mello-Ross Assessments!
Prop 13 Local Government Impacts
As an ex-mayor, I can tell you from personal experience that city, county and school board elected officials are the most responsive to local voters. Why, we live where you live and you can "reach out" and touch us one on one! Try that with your State and Federal elected officials! So, when Jarvis and Gann came up with Prop 13, one of the first provisions was to give all of the control over property taxes to the State Government and leave the cities, counties, and local school boards begging to the State for a share of the property tax revenue.
IMMEDIATELY, PROPOSITION 13 REDUCED THE LOCAL ENTITIES TAX REVENUES FROM PROPERTY TAXES FROM 90% TO LESS THAN 66%.
Cities, Counties and School Boards had to come up with the property tax shortfall from any sources they could tap. Keep in mind that Cities, Counties, and local School Boards are where you live and where you receive the vast majority of services that you rely on in your everyday lives. What do you get from the State? What do you get from the Federal Government? Do they pick up your trash? Do they provide you with drinking water? Do they process your sewage? Do they low the lawns in your parks? Do they put out a fire at your house? Do they respond when you have a burglar in your home? Do they provide the ambulance when your loved one hurts themselves at home? Not on your life, which is really the point!
We had less than 6 months to figure this out and our taxpaying citizens were not happy campers. They did not realize the impact of Prop 13 until they had voted for it! This is what happens when elected officials are derelict in their duty to property legislate and meet the needs of their constituents. Poor public policy ensues and the vary people, our taxpayers, not special real estate interests, suffer.
For cities that were more urban or tourist destinations, they adopted higher hotel taxes in addition to taxes other local agencies adopted such as utility taxes, sales taxes, and use fees. Those who had ordinances that allowed for local income taxes used this source to offset their revenue shortfall. I literally had to reduce our police and fire budgets by over 20% and postponed infrastructure improvement and maintenance projects for 5 years. Many of the revenue increases required the local governments to seek voter approval for the increases that were not always granted. To say that local governments in California were in dire straights for a time, is an understatement.
The graph below shows the shift from property taxes as the primary source of revenue to other sources. The graph shows the relative increases since 1978 when Prop 13 was passed: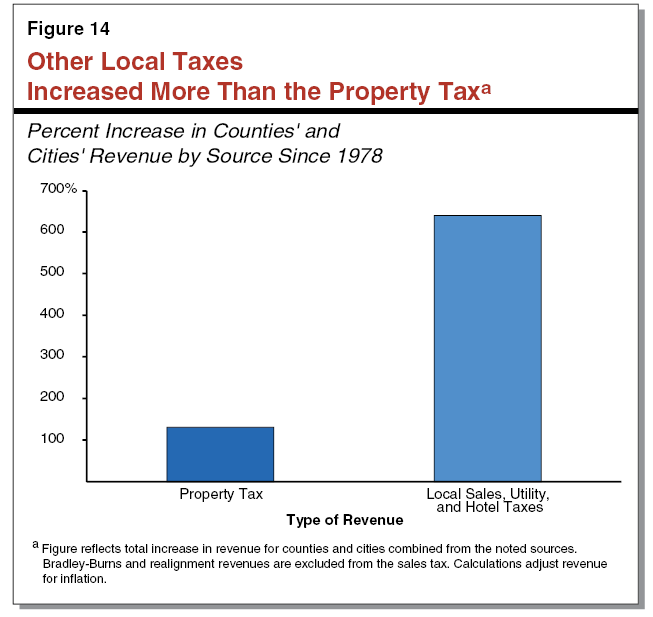 Now, for those rural cities, counties and school districts, which was true in my case, we did not have tourist and hotels and restaurants to pick up the shortfall. We had to convince our citizens that it was a good idea for the parents of Little Leaguers to pay $25 for each child they enrolled in the city leagues. In 1978, $25 per child in a rural agricultural community was not insignificant. Water, sewer, refuse and other fees were increased significantly and we had to work with our county to increase sales taxes. While none of our citizens liked the prior property tax scheme, they were even less enthralled with the new pay-to-play post Prop 13 world that was created!
The graph below shows the gradual shift from Property Tax revenue to other sources. What this graph does not show is the ever increasing animosity to rising property taxes via increased assessments, reassessment at sale, and fee assessments. This on top of a lower level of service that is possible by local governments due to lower tax revenues. All the while, those who keep their property for longer periods of time such as commercial and industrial landowners, continue to reap pre-1978 property assessments that have been capped at the lowest rate.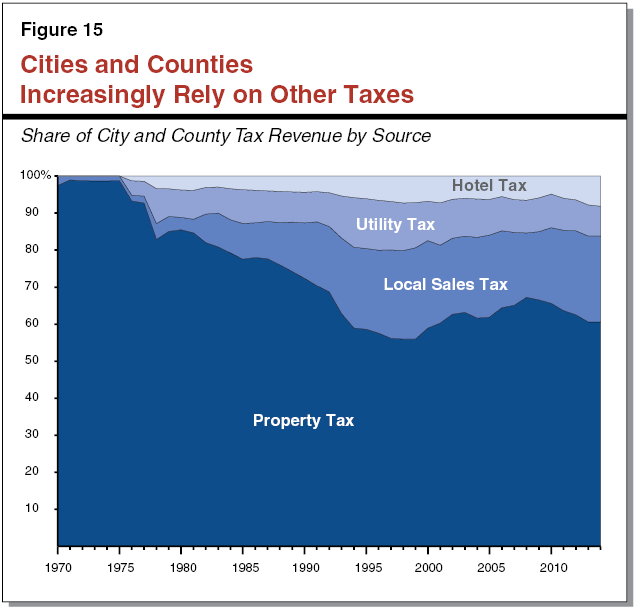 Post Mortem Warning
I now live in Idaho and am seeing the "California Phenomena" of growth into this great State from, yes, California and other not so conservative States. Many of the current residents, native and transplant, are saying that a State like Idaho needs something like Prop 13 in order to curb rising property taxes. My assessed valuation on our my home has increased 36.6% in three years along with my property taxes. Senior citizens are being driven from their homes due to property tax increases. Idaho has a "circuit breaker" provision that allows for any household making less than $30,400 to get a tax break on their property. But, this is a very low income level in today's economy, especially for seniors whose SSI payments are increases at a rate that is half of our property tax increases!
I have three suggestions based on personal experience as a taxpayer, an elected local official and a senior citizen:
FORGET DOWNLOADING A COPY OF CALIFORNIA'S PROPOSITION 13. IT IS BAD LAW AND BAD GOVERNANCE.
FORCE YOUR STATE, COUNTY, CITY AND LOCAL SCHOOL BOARDS TO ADDRESS THE PROBLEM WITH RISING PROPERTY TAXES.
FORCE THEM TO ADOPT A NON PROPERTY TAX BASED REVENUE SYSTEM THAT IS TRANSPARENT AND NOT AD VALOREM. IT MUST BE BASED ON SERVICE LEVEL, INCOME OR SOME THER BASIS THAN THE HYPETHETICAL "GAIN" FROM ASSESSED VALUATIONS OF YOUR PROPERTY.
IF YOU DON'T YOU WILL GET ANOTHER REAL ESTATE DEVELOPER SOLUTION AND YOU WILL NOT BE A HAPPY CAMPER!
RD Pierini
@RDPierini
Hat Tips:
https://lao.ca.gov/Publications/Report/3497#How_Does_Proposition.A013_Affect_the_Stability_of_Property_Taxes.3F