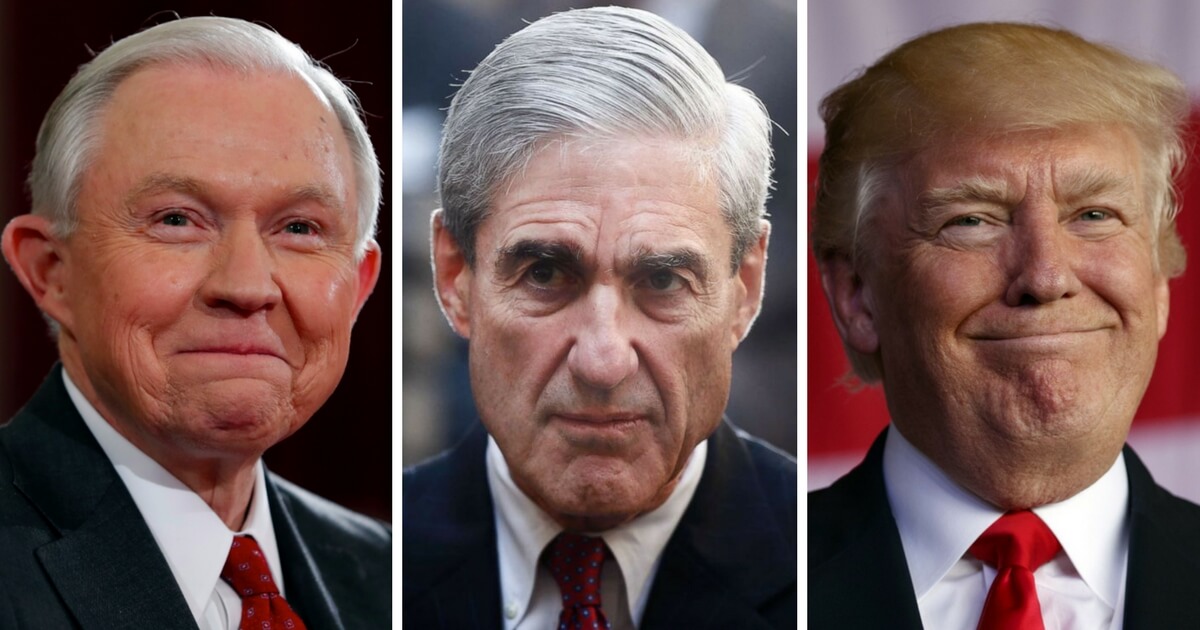 A.G. Sessions, at best, is abetting/permitting a lawless DOJ/FBI to exist and focus on an all out assault of President Trump, OR he is directing the all out assault of President Trump. 
Almost immediately after he took the oath of office to ascend to the office of the Attorney General, Sessions recused himself from:
"I have now decided to recuse myself from any existing or future investigations of any matter relating in any way to the campaigns for president of the United States."  
In doing so, Sessions stated that he came to this decision after consulting with "ETHICS" specialists inside of the DOJ and then erroneously cited the federal regulation regarding "Disqualification arising from personal or political relationship".  This regulation, (28 CFR Sec. 45.2), ONLY PERTAINS TO A CRIMINAL INVESTIGATION OR PROSECUTION!  The subsequent Rosenstein/Mueller investigation into the Donald Trump was not a criminal matter but a COUNTERINTELLIGENCE INVESTIGATION that is NOT subject to 28 CFR Sec. 45.2. 
Per the disgraced ex-FBI director James Comey in his testimony to the House Intelligence Committee, Comey stated:  "I have been authorized by the Department of Justice to confirm that the FBI, as part of our counterintelligence mission, is investigating the Russian government's efforts to interfere in the 2016 presidential election and that includes investigating the nature of any links between individuals associated with the Trump campaign and the Russian government and whether there was any coordination between the campaign and Russia's efforts."  
Is Sessions totally devoid of the ability to understand our laws and regulations?  Is the DOJ intentionally putting Sessions in a box to keep him from assisting his President?  Did Sessions recuse himself so Rosenstein his Deputy, could wage a war against Trump and his family without interference?   Remember A.G. Holder saying that he was Obama's WINGMAN!  Sessions is a lot of things but certainly NOT Trump's Wingman!
If anyone inside of the DOJ is conflicted and should recuse himself from everything involving a Trump investigation it is Rod Rosenstein himself.  This political hack actually signed the 3rd FISA warrant extension allowing the Trump team to be wire tapped and all electronic and other communication surveilled.  Then this hack created a phony excuse to designate Robert the saint Mueller as a DOJ Special Council!  And the DOJ ETHICS experts have not told Rosenstein to recuse himself!!! 
Rosenstein, the Session's Anti-Trump Henchman: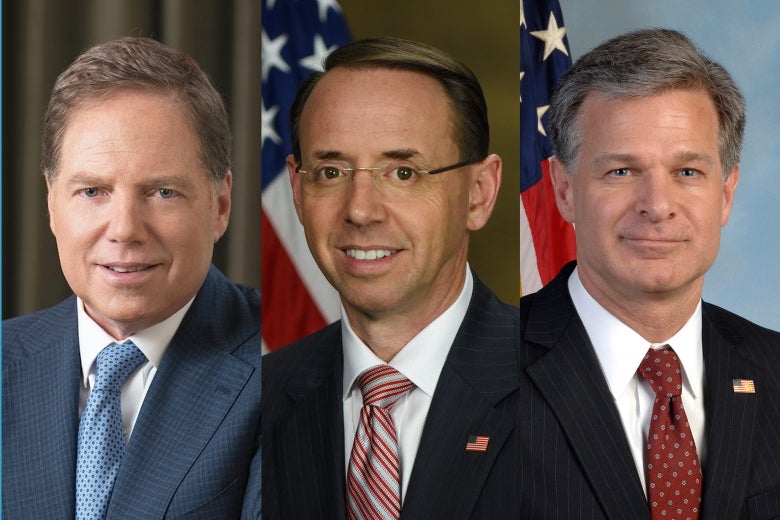 But, there is more!  (This travesty of justice is like a midnight TV commercial for Ginsu knives!) 
Donald Trump's pick to head the Department of Justice Southern District of New York was Geoffrey Berman.  (Left in the picture above)  (This office is the office that is attacking the President's advisors and staff without mercy including Michael Cohen!) 
In order to insure that the Mueller investigation into "Everything Trump" would survive Mueller being fired by Trump, Rosenstein turned over the Cohen case and others to this office. 
BUT, before doing so, he literally coerced Berman, a Trump pick, to RECUSE himself of anything to do with Trump! 
Then, "Everything Trump" would be handled by the 2nd chair, Robert Khuzami,  an anti-Trump prosecutor who was a friend of the Trump Hating Democrat Appointee 

Preet Bharara who Trump fired.

Rosenstein now has a two tiered federal prosecution hit team against Trump!
One Last point, Rosenstein is the one who recommended the current FBI director, Christopher Wray (far right in the picture above) to Trump and Sessions!  Now Rosenstein can direct Wray's FBI on who to attack next!
So, Rosenstein, Mueller et al have created a prosecutorial web against Trump that could have only been possible by Sessions recusal!  If Sessions was really Trump's A.G., he could have, and still could, shut this whole charade down! 
So, I will leave you to decide, is Sessions a purist who recused himself on principle or a political hack who his abetting this entire Anti-Trump Which Hunt!
I have to go throw up now!
RD Pierini
@RDPierini
Hat Tips-Please read for more detail
https://www.nationalreview.com/2017/06/jeff-sessions-recusal-unnecessary/
https://www.washingtonpost.com/news/the-fix/wp/2017/03/02/transcript-of-jeff-sessionss-recusal-press-conference-annotated/?utm_term=.8708fa1e5fdb
https://www.washingtonpost.com/news/the-fix/wp/2017/03/02/transcript-of-jeff-sessionss-recusal-press-conference-annotated/?utm_term=.8708fa1e5fdb
https://www.thegatewaypundit.com/2018/08/huge-rosenstein-moved-cohen-case-to-new-york-thenordered-trump-appointed-us-attorney-geoffrey-berman-to-recuse-himself/
https://en.wikipedia.org/wiki/Robert_Khuzami