RINOs and Leftist Dems

are in harmony against Trump's G-20 discussions with Putin and his handling of the so-called "Russian Hacking" in the last election.  But, they are also in harmony stonewalling the Trump "Presidential Commission on Election Integrity".
Facts:
Russia did not "Hack" into State controlled voting machines, computers or other election systems.  They attempted to "hack" into these systems but were UNSUCCESSFUL.  (This must be true since Obama did not bother to inform the States of the Russian Hacking attempts!)

Russia did NOT hack into the DNC emails.  The elicit retrieval of emails from the DNC by "foreign" agents were a result of phishing programs being activated by DNC staff itself when they clicked on links embedded in emails or ads.  In short, the DNC hacked themselves!  (You can't protect a system from stupidity)

Multiple States have reported errors in their voter rolls that range from bad addresses to enrolled dead people.  Also, there have been documented cases of illegal aliens and felons voting in past elections.
After some 240 years of revisions to State voting procedures and methodology, maybe it is time to do a review of our election processes, security, and what a future voting system should look like.  There are two main components of the future system:
The "system" should be absolutely protected against vote manipulation by electronic or manual intervention means.  Vote tallying must be accurate and back by redundant tallies that are easy to audit.

The "system" must ensure that only eligible voters are registered at the time of an election with proper checks and balances to make sure all voters are citizens and that no one is registered to vote in a federal election in more than one state.
You can't have it both ways!  Either you support the development of a secure voting system or not!  Russian supposed hacking makes the Presidential commission even more critical.  The commission asked the States for EXACTLY the same information that the State's have deemed to be PUBLIC DOMAIN information.  So what is the big objection to reviewing and comparing voter rolls across State lines and comparing voting systems and controls across State lines?
Politics!
The left uses the same arguments against the commission and its mandate as they use against voter ID requirements.  Racist, disenfranchises voters, etc.  The bare fact is that the commission and its review has the potential of identifying State policies and practices that allows non-citizens and felons to vote in federal elections.  We know that felons, dead people, and non-citizens have "voted" in past federal elections.  We just do not know how many violations occurred.
Why not compare State level voting systems and procedures and let the States decide if there are better, more efficient, and accurate methods to voting and tallying? 
Why not see if there are needed electronic systems controls that need to be put in place to block any hacking attempts from the outside to change votes or tallies?  Government systems are generally generations behind the private sector when it comes to security and efficiency.
Why not set up an integrated system that would allow States and their counties to verify whether a voting registration request is being requested by a citizen, non-felon, and one not registered in other counties/States?  If the system found that the request was being made by an applicant who was registered in another county/State, the system could ask the applicant if they would like to deregister from the other country/State before proceeding.  (I recently moved from California to Idaho and it was completely up to me to deregister to vote in  California.  There was no way for Idaho to know if I was registered in another State or not.  I could have easily voted absentee in California and in person in Idaho.)
Democracy succeeds or fails largely on the premise of

one citizen, one vote

.  If our elected officials cannot see their way clear to spend a little time reviewing our voting systems, their security, and their integrity, then obviously we do not count for much!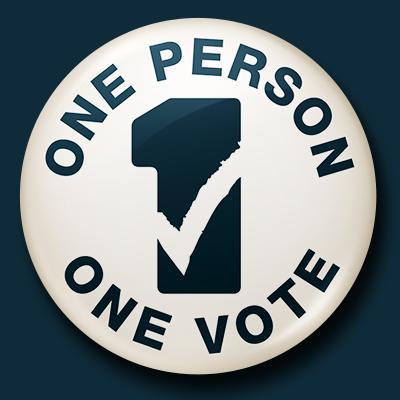 RD Pierini
@RDPierini