Can Trump Maintain the Electoral College Win With Universal Mail-In Balloting?
2016 Electoral Map
Many Trump supporters are wringing their hands, biting their nails, drinking 2 bottles of wine per day, taking up smoking, or worse, over worry about the 2020 election outcome.  They are worried about the polls even though they are better than they were in 2016.  They are worried that the Democrats will steal the election through mail-in ballot fraud or worse. Many fear that the Russians, Chinese, Iranians or Martians are going to hack into our election systems and throw the election to Biden-Harris, or Harris-Biden!
I DO NOT THINK BIDEN-HARRIS CAN DEFEAT TRUMP-PENCE!
3 Primary Factors Impacting Voters in 2020
China-Virus:

There is no doubt that the Left has put this pandemic front and center to there campaign.  Their Media is all in on the scare bombardment and to some degree it is effective, but mostly to their own base.  Yes, people in locked down blue States are pretty paranoid and may even think a low intelligence career politician could "fix" the pandemic.  Here is the good news, those people are in Blue States that Trump does not need to win.  In battleground States that Trump won in 2016 like Pennsylvania, Ohio, North Carolina, Wisconsin, etc., Trump's economic record and his stance on energy will keep voters away from Biden-Harris.  Further, Trump's push for a return to normalcy is more endearing than one would think.  If you think we are in for a DARK WINTER, why vote at all!

Economy:

In Battleground States, especially those with Left-wing Governors and Mayors, the voters are fed up with the lockdowns and want to get back to work and get their kids back in school.  These voters know that they saw a $6,500 rise in their pay and another $2,500 benefit from cheap energy.  They have not forgotten that Trump delivered this to them, PERIOD.  What is Biden-Harris offering?  A DARK WINTER filled with tax increases, higher energy costs, increased unemployment, and a slowing of our economy.  The voters are smarter than to trust of 50 year career politician and a Left-wing progressive to bring back the economy.  According to a recent Pew poll, 79% of likely voters rated as a key issue.  According to Gallup, 56% of voters feel better off today, with the virus, than they did at the end of the Obama-Biden administration.

Safety:

Other than protection from the China-Virus, voters are worried about their physical safety on the streets, in their neighborhood, in their children's schools, and in their place of work.  Mob violence is scary and the left has done nothing to lower the voter's fears.  They see the left supporting or at the very least, not condemning Antifa and the Black Lives Matter organization.  The suburban women that the left tries to convince you hates Trump and his personality voted for Trump last time and will do so again.  He is the only voice decrying the violence and siding with our law enforcement.  Suburban women want someone besides a social worker on the phone when they call 911.  They saw the lack of pushback and law enforcement leadership in Portland, Seattle, Chicago, Washington DC, New York City, St. Louis,  Kenosha, and elsewhere where rioting was allowed to spread freely.  They do not want this in their neighborhoods.
3 Left-Wing Positions 2020 Voters Do Not Care Much About
Packing the Supreme Court and Changing Our Judicial System:

This is a wet dream of the left and other than hard core leftist, the majority of the voters think these ideas are merely a power grab.  The Republicans did a very smart thing, albeit t risky, was to have hearings on the Amy Coney Barrett SCOTUS nomination.  She knocked it out of the park and at a 75% rate the American People loved her.  They did not see the boggy man that Schumer and Co. tried to create.  If anything, these ideas may even turn off moderate Democrats and certainly independents  who see it as a political battle with no benefit to the public.  While people align ideologically with Justices who share their values, they do not think that revamping the courts to rebalance the courts is a wise idea.

Green New Deal/Eliminating Fossil Fuels:

Only hard core Global Warming advocates see this issue positively.  The 79% who view economic conditions as their top priority see this issue as lowering their standard of living with little offsetting benefit.  In a Pew poll, out of 12 items, Climate Change ranked 11th. Only 11% of Trump voters care at all about this issue contrasted with 68% of Biden-Harris voters. This is a left base issue only.  The left-wing thinks that the electorate has already forgotten the failed efforts by Obama-Biden to eliminate fossil fuels and build up renewable energy.  States like Pennsylvania, Ohio, West Virginia, Kentucky, Wisconsin (supplies the sand needed for fracking), North and South Dakota, New Mexico and certainly Texas, view this idea as personally threatening.  Others, even in California, see this idea as one that would increase their personal  costs and lower their standard of living.  California is the poster child of this failed policy and not too many other states are lining up for rolling-Black-outs!

Healthcare:

84% of Biden-Harris supports and 48% of Trump voters view this as a high priority.  The problem when discussing healthcare is not asking the real questions.  Is it an issue of insurance availability?  Is it an issue of insurance costs including deductibles?  Is it an issue of prescription drug costs? Is it an issue of hospital and clinic costs?  Is it an issue of pre-existing condition coverage?   And so on.  If it is the "Affordable Care Act", aka Obamacare, were are only talking about 8.3 Million people who enrolled in 2020.  Not 20,000,000!  Quantifying others who do not have healthcare insurance coverage is difficult and even more so when determining how many voluntarily do not seek coverage.  44 million people are enrolled in Medicare; approximately 9 million Vets are enrolled in VA care; 180 million Americans have insurance through their employers; 68 million people are enrolled in Medicaid; 7 million people are enrolled in CHIP; and 8.3 million people are enrolled in Obamacare.  Assuming there are about 328 million people in the US that leaves about 12 million people unaccounted for.  Some of these may be unenrolled Vets, people voluntarily not covered, homeless who would otherwise be covered by Medicare, and so on.
So, what is the real healthcare issue?  Some is probably fear of the unknown.  Some is costs.  Some is out of pocket costs for deductibles and premiums. Some are prescription drug costs.  What is unclear is whether many are worried about not having an Obamacare replacement that is controlled by the government.  In the end, I doubt that the number of voters who say this is a high priority would place it higher than their personal economic status and safety for their family.
So, Where Do I Predict This All Adds Up To in Electoral College Votes?
My Map To a Trump 270+ Win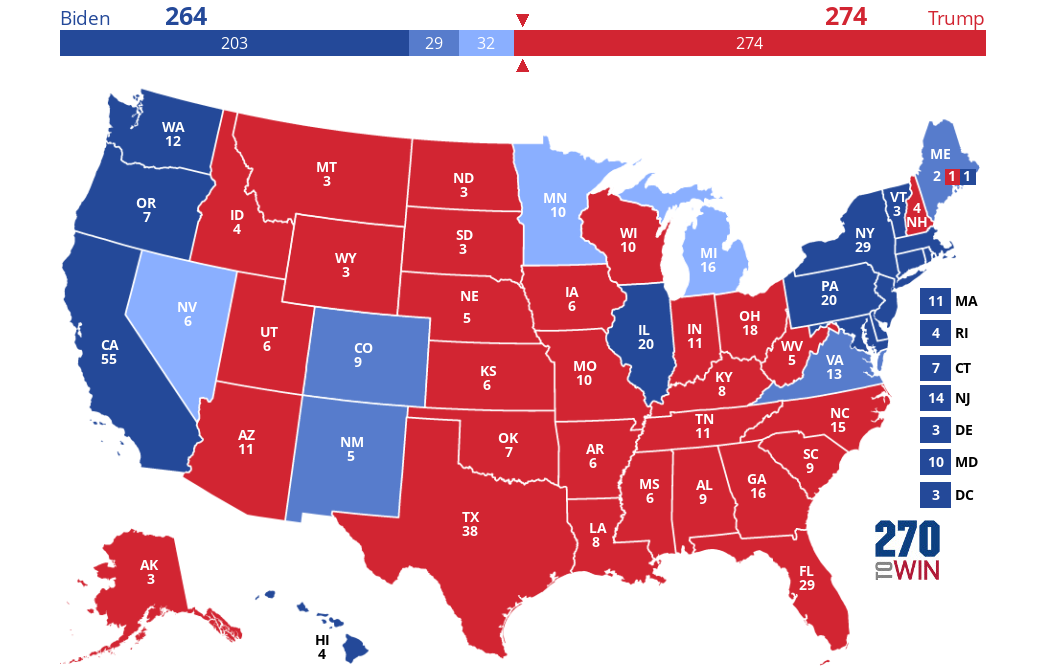 The map above is very conservative as it shoes that Trump LOSES Pennsylvania, Michigan, and Minnesota.  Trump won Pennsylvania and Michigan in 2016.  If Trump wins those two States he picks up another 36 votes which would put him at 310.  I also think he has a good chance of picking up New Mexico that relies heavily on Fracking as well as Colorado and Nevada.  If he does, this would add another 20 votes that would give him 330 electoral college votes.
How About Mail-In Ballots?
The majority of those ballots will be cast in coastal States such as California, Oregon, Washington, New York, New Jersey, Connecticut, Virginia and so on.  Trump was probably not going to win those anyway!  I excluded Pennsylvania and Michigan from Trump's votes in my conservative estimate as the governors in these States will do all they can to sway the count.  I actually believe that Pennsylvania may cast enough votes for Trump that it won't matter.  The same may hold true in Michigan.  Both Governor Witmer of Michigan and Wolf of Pennsylvania are deeply unpopular with their own electorate due to their lockdown punitive measures.
 In the end, the election will be dependent upon turnout.  Given the low enthusiasm for Biden and the high enthusiasm for Trump, Trump should have an edge.  This will be an ugly election just like the rest of 2020.  There will be lawsuits, riots, wild accusations and more but in the end Trump has a fighting chance now with Barrett on the Supreme Court.  If she was not on the court, lower courts would have more say as SCOTUS would have been deadlocked 4-4 at best.  At least now, reason in the high court should prevail…
@RDPierini
RD Pierini
Hat Tips:
https://worldpopulationreview.com/state-rankings/number-of-registered-voters-by-state
https://thehill.com/homenews/state-watch/501577-heres-where-your-state-stands-on-mail-in-voting
https://www.thoughtco.com/electoral-votes-by-state-in-2016-3322035