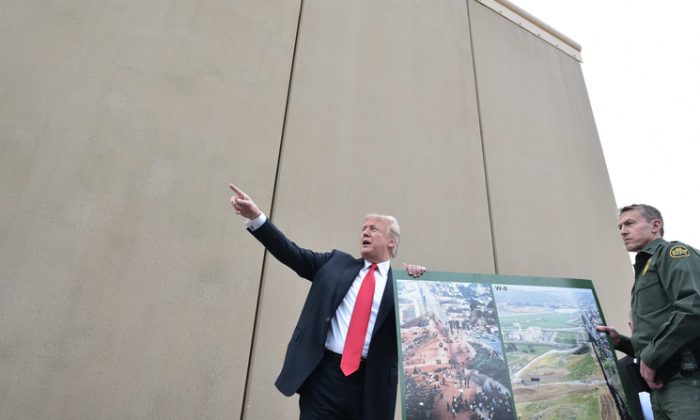 There is so much Fake News today regarding the need for and the building of a wall along our Southern Border that it is difficult to know what is real and what is not.  Below I will summarize as much of the information I was able to confirm regarding Trump's plan and the real status of our current Southern Border. 
The reader should understand that once an illegal alien sets one foot inside of the US, the Customs and Border Patrol officers have to take them into custody then release them into the US until the illegal alien's court date.  Same for those seeking asylum.  This is the "catch and release" law which makes a wall the only method of stopping an illegal alien from being apprehended and released into the US.  Over 95% of those so processed never appear for their court date and remain in the US.  IF Congress does not like walls, then allow agents to immediately deport illegal aliens as soon as they are apprehended!
The Border Wall Plan
Current Wall Status 
I will be using data from 2017 to the present to illustrate the current condition and extent of the Southern Border Wall.  You will be shocked to read just how LITTLE has been done in spite of the supposed priority the wall has been to the George W. Bush and Barack Obama administrations.  Same goes for the Congress who appropriated wall funding in 2006 and again in 2013.  This includes both Democrats and Republicans!
For purposes of this discussion, lets assume that the Southern Border with Mexico is 2,000 miles long, stretching from California to South Eastern Texas.  Of the 2,000 miles, approximately 350 miles are "protected" with natural barriers consisting of mountainous terrain or impassable waterways.  It is important to note that the more wall barriers that are put up, drug cartels and others will attempt to convert and use even those naturally impassable barriers in order to maintain their flow of illegal human trafficking and drug trafficking.  Currently:
Trump's plan for new wall barriers will require approximately 325 miles of current "vehicle barriers" to be upgraded to "pedestrian barriers'; 1,325 miles of new "pedestrian barriers" will have to be built to completely seal off the border.  This factors in the areas where natural barriers will suffice.

Only 650 miles or 33% of the 2,000 miles is "fenced".  If you factor in the impassable barriers, then 39% of the border is "fenced". 

Only 325 or so miles or 16% of the "fence" is designed to stop vehicles, NOT PEOPLE!   If you factor in the impassable barriers, then 20% of the "fence" is designed to stop vehicle.

There are 1325 miles of the border than can be crossed by people today without much difficulty.

There are 1,000 miles of the border than can be crossed by vehicles today.
Trump is Not Trying to Build a Wall From Sea to Sea But Rather Secure the 1,325 Miles or so of Border That Are Currently Unprotected.
Below is a map of the current border barrier that have been constructed.  Much of the older barrier had to be upgraded by the Trump Administration as it had fallen into disrepair or converted to prevent vehicles and people from crossing.
The yellow line represents barriers to stop vehicle traffic and the red to stop people from crossing.  The green is "other" fence that you can interpret as not stopping much of anything!  In fact, much of the "other" fencing is owned by ranchers and others along the border.  (if you click on this link, you will be able to view this map in your web browser which is more readable  https://www.usatoday.com/border-wall/us-mexico-interactive-border-map/)  You will note that the current barriers start in California at the edge of the Pacific Ocean near San Diego and then stops just past El Paso, Texas.  From El Paso, Texas, to the South Eastern border of Texas at the Gulf of Mexico, there are virtually no barriers!  
One of the early areas to be protected will be the McAllen, Texas, area.  Below is a map showing the current and proposed phases and barriers:
Much of the "vehicle" barriers are made up of Normandy Fencing or merely barbed wire.  Below is an example of the Normandy Fencing that has to impact on pedestrian crossings.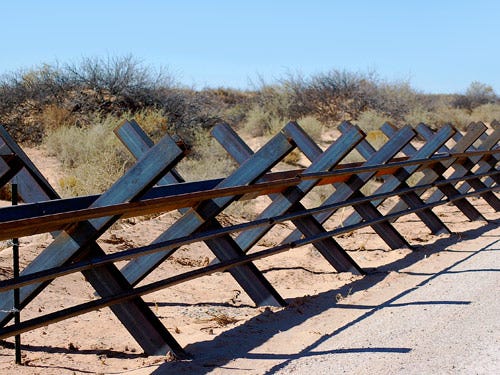 Where there are "people" barriers, the point at which these barriers stop is oftentimes wide open for people to cross illegally into the US, including in vehicles!  Where they intersect with vehicle barriers as shown below, the vehicle barriers are week or easily destroyed.
In some areas where the barrier has been built in Texas by the Rio Grande river, the barrier is a mile or so North of the border on the US side.  This mandates that landowners must have access to both sides of the wall thus providing an entry point for illegal aliens, drug traffickers, and human traffickers. 
Some of these areas along the River are in flood plains and have been left open due to this status.  (There are international treaties with Mexico that mandate specific actions that can be taken along these areas)  Newer designs on the Wall incorporate a flood barrier levee with an integrated fence but these are yet to be built.
So, the bottom line is that President Trump inherited a border barrier that was either:
Non-existent

Incapable of stopping foot traffic

Incapable of stopping vehicle traffic

in disrepair needing rebuilding
The President has spent 2017 and 2018 "mending fences" where possible and in 2019 is starting to actually build new wall in Texas along its South Eastern border with Mexico.   The current status of our Southern Border can only be described as OPEN to people and vehicular traffic.  
Trump's Reliance on a Border Wall Plan
The recommendations by Homeland Security and its Customs and Border Patrol staff rely on the existence of a border barrier to supplement  agents patrolling the border and various forms of technology including cameras, sensors, drones etc. to assist those human assets.  If you placed one CBP agent every 100 years (length of a football field) you would need some 33,000 agents per shift to stand guard over the border!  The physical barrier and the integrated technology allow agents to respond to "hot spots" detected by technology and detained by the wall until agents can respond to the impacted area.  
Do Walls Work?
Yep.  In two sector of California, Imperial Beach and Chula Vista, walls were constructed with an immediate decrease in illegal crossings.  I am using these two examples due to the lack of high-tech in the early 1990's so the presence of a wall is solely responsible for the drop in illegal apprehensions.  There was little or no technical support for the wall other than lighting and some low-res cameras and unreliable ground sensors.   In the case of Imperial Beach, prior to the wall being built, there were over 200,000 border apprehensions that were reduced to an average of 14,000 after the barrier was built which represents a 93% reduction.  Remember, this is back in the early 1990's when technology was unsophisticated.
The Chula Vista experience was similar to that of Imperial Beach.  Apprehensions went down from 160,000 to about 6,000 which is a 96.5% decline in apprehensions.  

Is There an Invasion at the Border?
Unfortunately, the CBP has to rely on the number of "apprehensions" versus the total number of illegal entries as a benchmark for determining and quantify the extent of the invasion.  There is no way to know how many illegal aliens actually get in without being apprehended. 
Also, due to idiotic laws passed by Congress, CBP is especially burdened with the rapid rise in illegal crossings by unaccompanied minors and families with children.  So, to quantify the resource and manpower drain associated with the increased apprehensions is difficult.  All we can use is raw apprehension numbers to quantify the extent of the invasion.
Using Fiscal Year 2018 and 2019, and data as of January-to-date (4 months) of each of those years:
Unaccompanied Minors Apprehensions: 

2018=14,390; 2019=20,133; Increase 40%

Annualized 2019 Projected = 60,400

Family Unit Apprehensions:  

2018=25,625; 2019=99,901; Increase 290%

Annualized 2019 Projected  = 299,700

Total Apprehensions:

2019 Annualized:  732,000, 41% Increase/2018

2018:  521,000, 21% Increase/2017

2017:  415,500
If the CBP apprehends 732,000 illegal aliens in 2019, how many illegal aliens did they MISS!  I think 1,000,000 people entering a country illegally qualifies as an INVASION!  Let alone the massive amounts of drugs that follow along with the invasion!  Let alone the toll in human suffering caused by HUMAN TRAFFICKING!
If you think Trump is "Manufacturing" this Invasion Crisis, then you probably believe the new infanticide abortion bill in New York is a good idea!  The death from the illegal drugs and the epidemic of once cured diseases in the US being inflicted on US men, women and children goes hand in hand with the progressive-left death culture.  God Help us!
RD Pierini
@RDPierini
Hat Tips
https://www.usatoday.com/border-wall/usa-today-network-border-project-about-vr-podcasts-map/map
https://www.popularmechanics.com/military/a6028/us-southern-border-fence-tech-map/
https://www.usatoday.com/border-wall/usa-today-network-border-project-about-vr-podcasts-map/map
https://theweek.com/articles/666089/truth-about-americas-border-mexico
http://www.usborderpatrol.com/borderissues_crs_092106.pdf
http://www.usborderpatrol.com/Border_Patrol1301.htm
https://www.cbp.gov/newsroom/stats/sw-border-migration
https://www.cbp.gov/newsroom/stats/sw-border-migration/usbp-sw-border-apprehensions
file:///C:/Users/Richard/Documents/RDP%20Data/Blog/FY19-Budget-Fact-Sheet_Border-Security.pdf